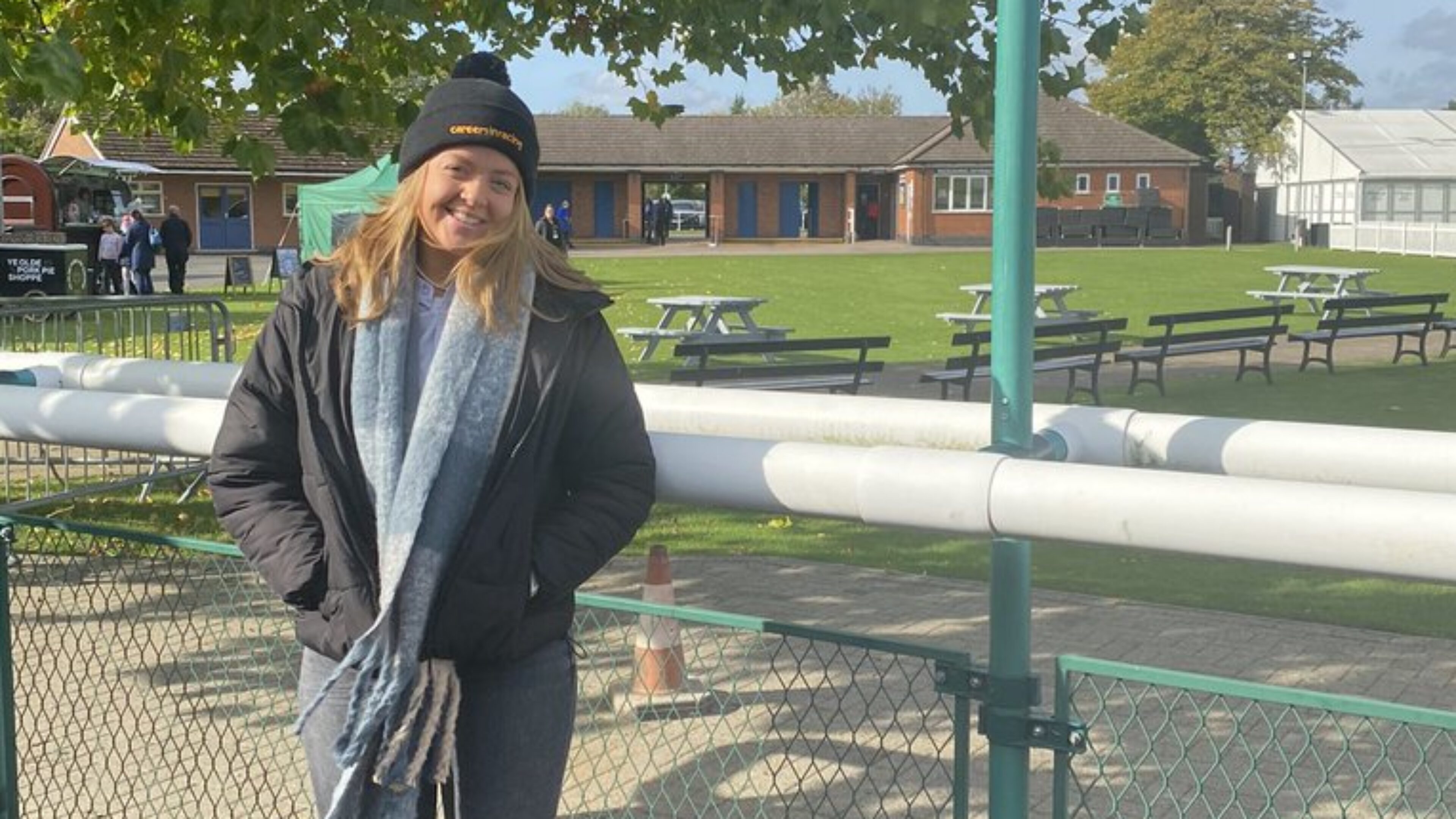 24 Oct 2023
The YCG chat with Claudia Robb on how she's getting on in her BHA Development Placement
For National Graduate Week, we had our early careers programme at Careers in Racing link up. Our Youth Collaboration Group members Olivia & Abby chatted with Claudia whose part of the 2023 BHA Development Programme. She's currently on a year long placement, so let's see what that girls chatted about.
1. So Claudia, why did you decide to take part in the BHA Development Programme?
I was at Hartpury University studying equine performance and my lecturer had mentioned it so I had a little look and thought I'd apply for it. I went through the assessment period and got invited back for a second interview and then got put on the BHA Race Day Operations placement which is a year long.
2. In 3 words how would you describe how you felt when you got accepted onto the programme?
Relieved, Excited and Happy.
3. What have you learnt from the Development Programme?
I've learnt so much! I came from a show jumping background so I haven't had anything to do with racing other than going to Chelmsford Racecourse a couple of times. So I have learnt everything about racing like the rules and how everything works and there's so much more that goes on than I thought. Its been brilliant finding this all out.
4. On the development programme how was it interacting with a mix of people from different backgrounds in the sport of Horseracing?
It was great that there was such a mix of people that allows everyone to get into the sport. It was good as there was a few like myself without a racing background. I wouldn't have got into racing without this programme. There were people from the betting side who had heard about the programme and everyone was helping each other out if people had questions. It was great coming into the industry as a group as everyone was in the same boat, so we all had our little support system which I think is key.
5. Who was your favourite speaker / organiser and why?
Rod Street – Great British Racing! He was really great and now I get to see him in the office! And Sally Taylor who is Head Veterinary Officer and she did a talk of equine welfare which is what I'm really interested in. The talks are a great thing to introduce you to the industry.
6. What has been your highlight from the development programme?
Definitely the 2 weeks in Newmarket, which was brilliant, getting out on the course and going behind the scenes at the starts. I have done a lot work on the race starts which has been great.
7. What is one thing you are most looking forward to doing/ learning about in your placement?
I'm really looking forward to my anti doping team work coming along in few weeks. The good thing about my placement is I will work with a vast amount of teams, so I am learning all the time. Plus getting out to some more courses.
8. Would you recommend the programme and why?
Yes it's definitely the best thing that I've done. I couldn't have asked for a better introduction into the racing industry. It's such a good way to get people who don't have contacts to have a way into racing and you're going in at the top with the BHA. If you ever wanted to learn & grow your at the best place. Everyone has been so helpful and wants to help! I've already recommended it to everyone I was at Uni with!
9. And finally, what advice would you give to somebody looking into the 2024 BHA Development Programme?
Just apply. I was so close to emailing and saying I didn't want to do, but I spoke to my Mum & I'm so glad I didn't withdraw. There's no harm in applying even if you're not sure you want to do it. You have nothing to lose by applying and you should just take every opportunity thrown at you.
Abby is a Racing Groom at Gary Moore Racing and has done a mix of content for the Youth Collaboration Group including interviews and case studies. Olivia after recently joining the YCG has given a fun insight into racehorse ownership and her passion has given the group some fun clips on our social platforms. Look out for more from the girls and the group soon!