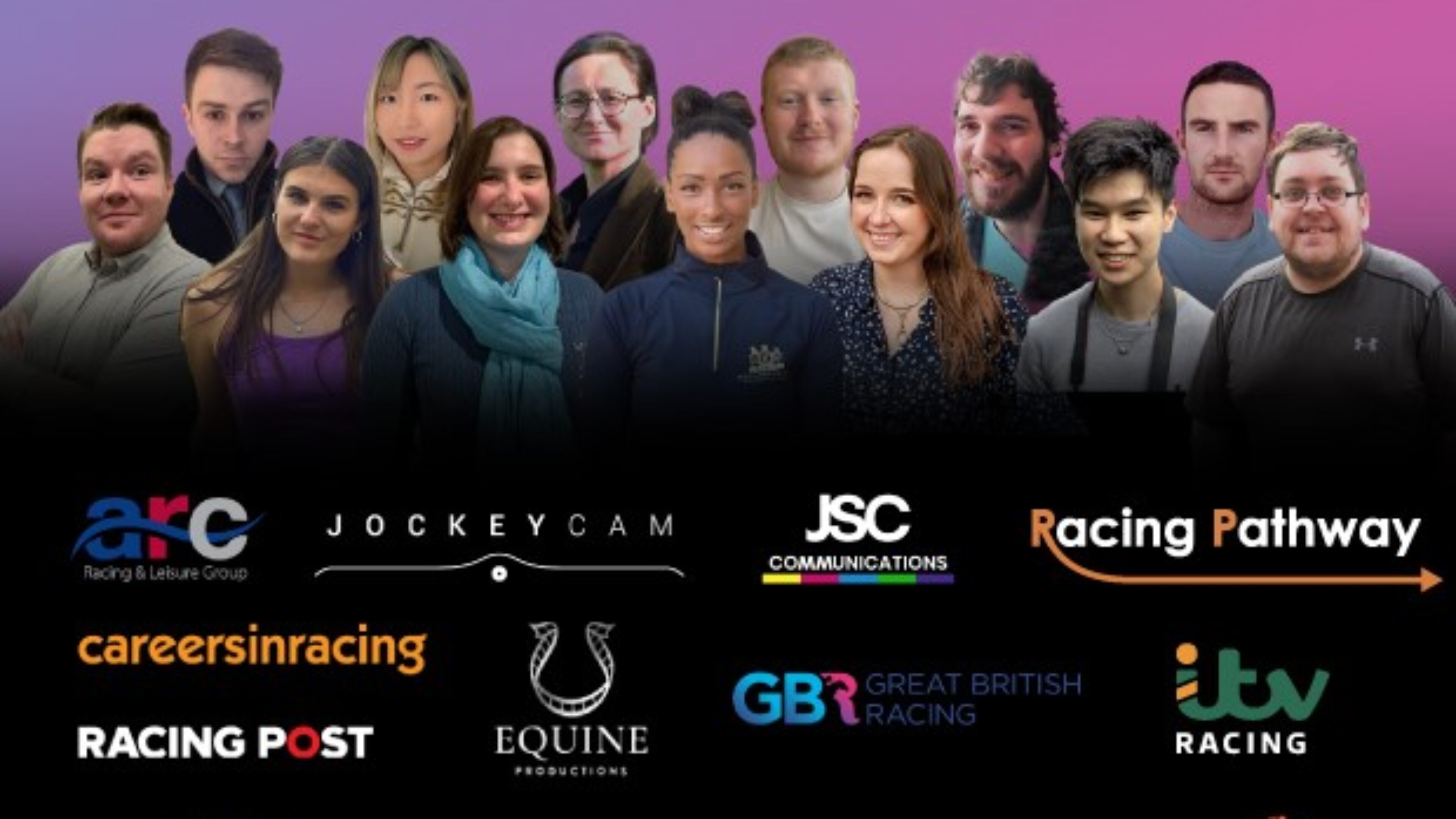 22 Mar 2023
RACING MEDIA ACADEMY CLASS OF 2023 ANNOUNCED
Thirteen cadets will make up the second cohort of the Racing Media Academy (RMA),
recruited following a highly competitive selection process.

The cadets will spend an intensive week at The British Racing School in April, culminating with the
Bet365 Gold Cup meeting at Sandown and attending the filming of Luck on Sunday at RTV's studios
in Ealing. The cadets will then attend paid work experience with one of twelve media partners to
experience the myriad of roles on offer.

This year sees the addition of five new placements to the already impressive list of media
placements: Arena Racing Company, Equine Productions, Great British Racing, ITV Sport, JockeyCam,
The Jockey Club, JSC Comms, Nick Luck Daily, Racing Post, RaceTech, RacingTV and Sky Sports Racing.
The RMA is jointly funded by the Racing Foundation and the twelve media partners involved. For the second year running, the RMA had over 100 applications for the thirteen sought-after places. Applications were received from a diverse range of individuals in terms of background, age, ethnicity,
religion, sexuality and disability.

Angie Lui who has been selected for a placement with Great British Racing said: "The Racing Media
Academy enables me to combine the two areas which I am passionate about and gives me the
opportunity to expand my knowledge of previously unexplored racing media sectors. I hope to gain
professional knowledge and insights from industry leaders."

Joseph Bell who has been selected for a placement with JSC Communications said: "I applied for the
RMA because I saw it as a real opportunity that I never thought would ever present itself to someone
like me. I come from nothing, my family are far from privileged and to break into a sport like horse
racing, which for so long has had a reputation of being a closed shop unless you have wealth or
connections, was an opportunity I felt I had to try and take and help in any way I can to break down
those barriers and stigmas. I want to grow as a person using this opportunity. I want to use my passion
and knowledge on racing to build a career within the sport. I can't wait to get onto the course and
listen to all the advice that I'll be given across my time with the RMA. This is a chance of a lifetime and
something that I am going to give my all."

The idea for the Racing Media Academy was born after broadcaster and entrepreneur Josh Apiafi
identified that there was a barrier to getting new diverse talent into racing's media. Following the
successful pilot in 2022 with 10 cadets graduating from the Racing Media Academy, he is thrilled to
see the development of the course.

Josh Apiafi said: "To see the RMA grow again into year two is fantastic, eight of the ten cadets from
last year have been offered full time roles in the sport. That's proof of concept, if you open your
doors to ED&I you'll be amazed who walks through it. For the sport to grow and be attractive to a
broad demographic, it has to be reflective of society. The organisations and individuals behind the
RMA should be rightfully proud that they are doing just that."

Rob Hazel, Chief Executive of the Racing Foundation which has funded the RMA since inception,
said: "We were delighted to see the positive outcomes of the 2022 Racing Media Academy.
"The course brought a number of talented people into the industry who might not have had access
to it otherwise, which would have been a huge loss to racing.

"We'd like to congratulate all of the cadets selected to join the Academy for 2023 and look forward
to seeing their contributions to the future of the sport's media."